TIPO Publishes IPR Trends for First Half of 2023
[ August 28, 2023 ]
>Back
In the first half of 2023, TIPO processed 34,611 patent applications (including invention, utility model and design) and 44,653 trademark applications, slightly down by 0.4% and 4% respectively from the previous year.

The majority of patent applications were for invention patents (24,256), down by just 0.2%. Design patents (3,508) increased by 2%, driven by a 9% rise in resident applications.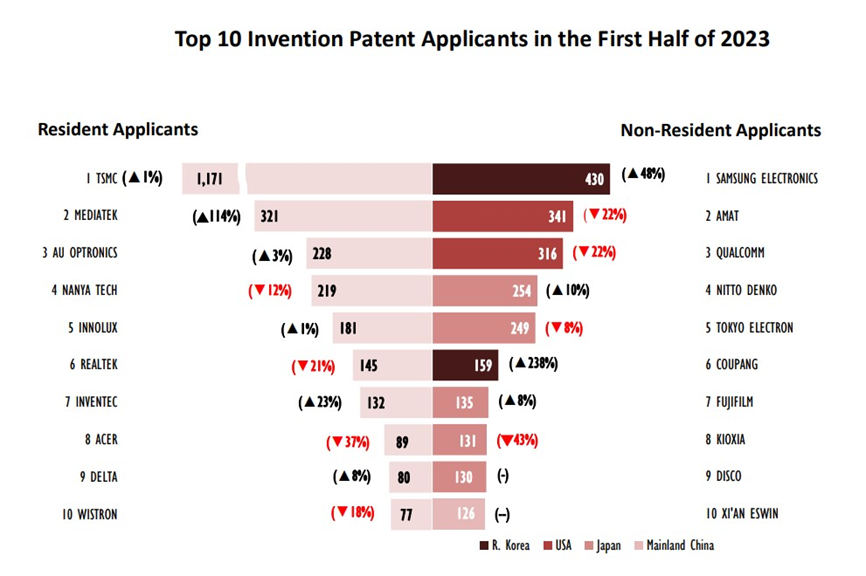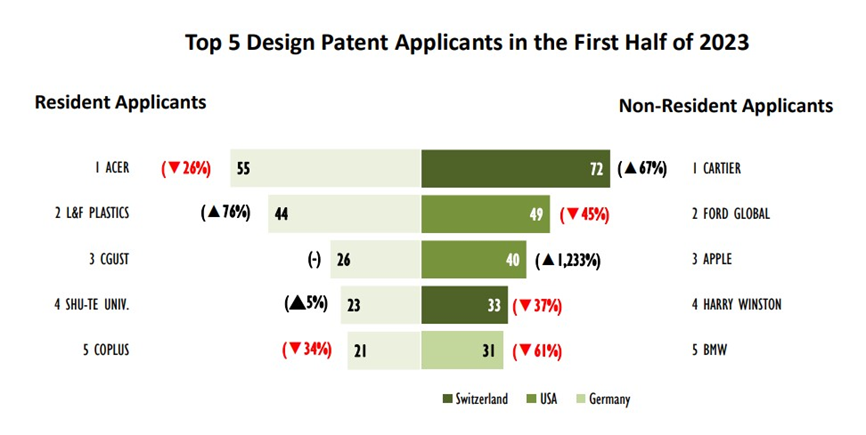 Regarding the above charts, Taiwanese enterprises filed 7,635 invention patents, a 2% growth. Leading in resident invention patent applicants was TSMC (1,711). MediaTek (321) saw an impressive 114% increase. Acer topped resident applicants for design patents (55), while L&F Plastics (44) grew by 76%.

In detail, Samsung Electronics Co. topped non-resident applicants for invention patents (430), while Coupang's 159 applications marked a remarkable 238% increase. For non-resident design patents, Cartier led with 72 applications. Apple filed 40 applications but showed a staggering 1,233% growth.

Besides, non-resident patent applications, mainly for invention patents (14,866), saw Japan as the leader (6,216), and China (1,683) and Korea (1,263) both grew nearly 20%. TIPO received 1,779 non-resident design patent applications, with Japan leading at 449.